OCEAN – FORWARDING
For importers and exporters who use Sea Freight, we offer services to/from all countries worldwide.
We organise ocean transport for Less than Container Load (LCL), Full Container Load (FCL) and charter cargoes, chilled or ambient. We have all types of equipment and a range of services tailored to meet your specific requirements. 
Through our global network of agents and relationships with shipping lines we can offer a high level of service at competitive rates.
OCEAN – LINER AGENCY
Serves Portugal and the Mediterranean with 20ft/40ft containers and reefer equipment.

Jenkinson together with Borchard Container Lines offer weekly containerised services with fixed day, direct sailings to/from Dublin to: 
Services to/from Belfast are on a feeder service via Liverpool.
     Port          TT ex Dublin / TT to Dublin
Leixoes-Portugal         3       4
Castellon-Spain           6       7
Salerno-Italy                8       9
Piraeus-Greece          10     16
Limassol-Cyprus        12     14
Ashdod-Israel             13     15
Haifa-Israel                 14     14
Mersin-Turkey            15     12
Istanbul-Turkey          21      19  
Izmir-Turkey               16      16 
Alexandria-Egypt       19       20
Beirut-Lebanon          20      S/B only
Casablanca-Morocco 12    16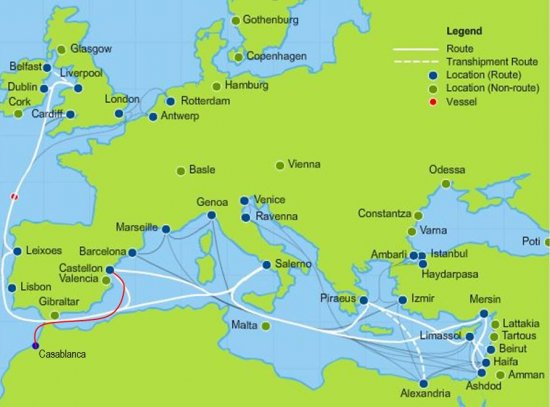 Also offering northbound services from Marseille to Dublin. 
For Borchard services to/from Dublin click here, to/from Belfast click here.